The Plumbers and Pipefitters JATC has a training program consisting of classroom instruction and shop instruction (two nights per week) and on-the-job training in Plumbing, Welding, Pipe Fitting/Steam Fitting and HVAC-Refrigeration & Service.
Our Apprentices have the opportunity to work during the day with Local Union #354 Journeymen who will help and guide you with the tasks at hand while attending school two evenings a week and learning first hand from our Instructors, who have gone through the program and are currently working with our contractors, everything there is to know and more.
During the course of the five-year apprenticeship, you will have the opportunity to obtain the following certifications:
Medical Gas Braze/Installer
City of Johnstown Plumbing License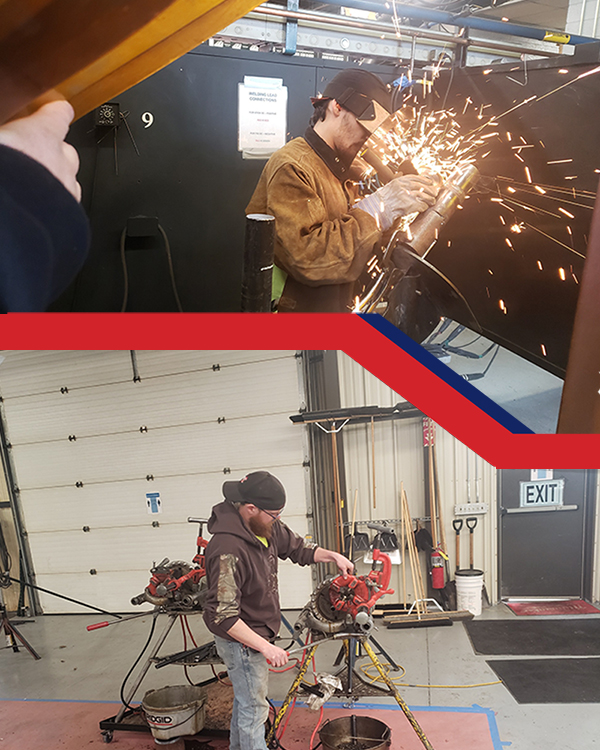 Are you interested in applying to the program?
If you are interested in a career as a Plumber, Pipefitter and/or Welder, applications are accepted at the Youngwood JATC and Ebensburg JATC the third Monday of every month from 8:00am to Noon.
All qualified applicants will receive consideration for employment without regards to race, color, religion, gender, gender identity or expression, sexual orientation, national origin, genetic, disability, age, or veteran status.
As an Apprentice, you will learn these trades through a combination of on-the-job training, technical education and classroom instruction.  Upon successful completion of the five-year apprenticeship program, the Apprentices become Journeymen as Plumbers, Pipefitters and/or Welders.
Applicant's must be at least 18 years of age and have a high school diploma or a General Education Development Certificate (GED) and must be physically capable of performing work of outside construction plumbing-pipefitting trade, work at various heights and in extreme weather conditions.
Application Process
When you apply to the program, be sure to bring:
Copy of your High school transcripts or GED
Two (2) letters of recommendation (from former employers, school officials or non-related persons)
Copy of your DD214 form if a veteran
Must provide a current Pennsylvania Driver's License
Application Fee of $40.00 cash or money order (no personal checks will be accepted)
Locations
For those applicants who reside in Westmoreland, Fayette, portions of Washington and Greene Counties, the Youngwood JATC School is located at 263 Armbrust Road, Youngwood, PA 15697.
For those applicants who reside in Bedford, Blair, Cambria, Cameron, Clearfield, Elk, Huntingdon, Indiana, Jefferson and Somerset Counties, the Ebensburg JATC School is located at 172 Municipal Road, Ebensburg, PA 15931.
Chad E. Morrison Training Coordinator
263 Armbrust Road Youngwood, PA 15697
Office: 724-925-8108
Fax: 724-925-2108
Email: lu354tc1@uanet.org
Jennifer Scalise Office Manager
263 Armbrust Road Youngwood, PA 15697
Office: 724-925-8108
Fax: 724-925-2108
Email: Jscalise@uanet.org